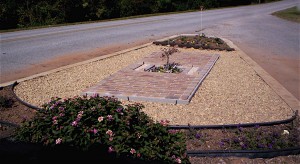 For Immediate Release
Camp Hill, AL, November  5th, 2012
The press and public are invited to attend a dedication of the Camp Hill Community Harmony Garden on Saturday, November 17th, 2012 at 12 p.m.  The triangular garden, located at the entrance to town at South Main Street and Old Highway 280, was constructed to give residents and visitors a fresh impression of the town.  Several volunteers labored extensively to make a welcoming town entrance filled with flowers and interesting landscaping.  Two men from the Town of Camp Hill Maintenance Department assisted, as did a member of the Lyman Ward Military Academy Corps of Cadets.  A section made of engraved bricks honors and preserves the memories of past and present residents, businesses, churches and other organizations.
Improving the visual image of the town is a small step forward in encouraging new residents to settle and new businesses to choose Camp Hill as a home.  In recent years Dollar General, the Hodges Vineyards and Winery, and the CBE Center for Excellence security training center have joined the Camp Hill business community.  Several authors, artists, and professors have put down roots in the small town that produced Catherine Rodgers McLain, nationally known author of The Towers Inheritance.  Lovely old homes are being restored all over town by retirees returning home and by people moving to Camp Hill for the first time.  The former Edward Bell High School will reopen in August 2013 as the Edward Bell (Tallapoosa County) Technical Center, producing workers skilled in welding, health science (nursing and physical therapy), building science, pre-engineering and industrial maintenance.
Come give a vote of confidence for progress.
Camp Hill Community of Promise
Community Harmony Garden Project Members