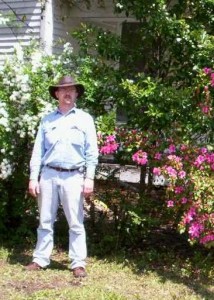 C. D. (Dean) Bonner left the tarpaper shacks of Appalachia for a long military career, rising through the enlisted and officer ranks. He was a skilled Morse telegrapher and a calming voice during many search and rescue cases. He left a town of 300 souls to travel the world, living in Boston, New Orleans, DC, and even on the island of Guam for a couple of years. C. D. has a taste for things archaic, such as restoring Studebaker automobiles and antique tube radios, and is a weekend gold prospector. His partner PJ, a multi-talented artist, shares these same interests. Together, they travel and spend time at homes in Alabama and Virginia. C. D. has several upcoming projects, including recording several CDs of original humor for satellite radio and writing a new compilation of short stories.
C. D. (Dean to friends) Bonner is well-known for his articles in Lake Magazine; Lake Martin Living; The Alexander City Outlook; The Lafayette Sun, and is a staff writer for a new arts magazine called The Revelator. He had a popular weekly column in The Dadeville Record.
Contact: cdbonner@cdbonner.net
Twitter: cdbonner1
Website/blog (sample stories): http://www.cdbonner.net
YouTube: http://www.youtube.com/watch?v=C1-RHjlo6lw
Fore review copies or interview requests, contact Dean at 757-217-7066.
"I Talk Slower Than I Think" ISBN-13: 978-0-9857950-0-9 (print)
ISBN-13: 978-0-9857950-1-6 (E-book)
ASIN: B0094QSNN2
Available in print and e-book formats at most online retailers.
"I Talk Slower Than I Think" Prologue
Author: C. D. Bonner. Cover illustration by Patricia Jean Garrigus.
These 52 Creative Non-fiction stories capture some of the amusing tales and a few tragic moments of growing up in the rural South. A child must dodge bobcats on the way to the bathroom; he tastes a biscuit that is so hard firemen must remove it, and he wades through a treasure of Confederate money. This extended family has quirks and an odd collection of friends whose imagination leads them to do outrageous things. Listen to tales of his second cousin, twice (forcibly) removed. These are true stories for adults and adolescents to enjoy that go beyond Southern humor. The length of these stories makes this book a perfect bathroom reader.